"You go before me and follow me. You place your hand of blessing on my head." Ps. 139:5
Recently I heard a sermon by Sarah Jake Roberts called, "The Tutor and the Test." In this sermon, she shared how we often attribute things we are going through to God testing us, when he may simply be tutoring us in an area. God wouldn't give us a test without the tools to pass it and the tools come by way of his tutoring. I absolutely loved this perspective as it really helped me to see the trials I walk through in a totally different light. Now I can ask myself, "Is God wanting to tutor me through this situation," or "What has God shown me through tutoring in the past that he wants me to use to pass this test?"
Tutoring and testing are inevitable and essential parts of transition. These are often where we learn our most valuable lessons and mature the most spiritually. In these seasons, it is always helpful to hear how God has walked with other people through similar seasons. That is why I want to share with you 5 things I have learned in this time of transition:
Sometimes we look for a storm, where God has told the waters to be still

(Psalms 23:2)- With

everything going on

, it could have been easy to just assume things would become worse before they got better. But right as my mind wanted to lead me in that direction I kept hearing, "He leads me beside still waters, he restores my soul." That is when I knew God was telling me to stop looking for a storm where he has called the waters to be still. As I have chosen to embrace that promise over my season, I have been better able to rest and enjoy the season even though it doesn't look like I had anticipated.

Don't make excuses, make adjustments

– Once-in-a-lifetime opportunities may come when it feels like the walls are caving in, but I believe there is a special anointing given to those who choose to press forward in those moments rather than pause. Some of my greatest open doors and opportunities have happened

since the crash

. I have had to intentionally choose to not allow my situation to define my ability to move forward. This leads me to my next point.

The heartfelt counsel of a friend is as sweet as perfume and incense

(Pr.27:9)- Social media has tricked us into believing that we can call people friends who we don't talk to or share real life with. A friend isn't someone who likes and comments on your pictures and celebrates your latest accomplishments online. It's someone who you can grow with, be vulnerable with, and who is willing to show you they value you by offering you an exchange of quality (not quantity) time. I can't tell you how important it has been to have true friends that know me well enough to know my capacity. They know when to push me and when to encourage me to pause. There were moments when I was willing to give up great opportunities because I just didn't want to add anything to my plate and my friends would say, "Rachel, you got this. This is huge. Keep going," and other times they would say, "Rachel, you have a lot going on. When is your rest day?" These are the type of people we need in our corner as God is tutoring us through a transition.

Children need to be invited into the adventure

– This has been huge for me because our children may not say much but they are watching how we react and how we respond to determine who God is in our lives and will be in their lives. When the crash first happened and our living situation was shifted I was annoyed, frustrated, and confused. But one day, I talked to a friend and she casually said, "How is your winter vacation going?" I laughed when she said it but something about that perspective shifted the entire experience for me. When it shifted for me, it shifted for everyone in the house. We started saying we were on a winter vacation and I started calling this our adventure with God. Although we are all still adjusting, I can see how inviting them to see what we were experiencing as a vacation (no chores is a huge winner) and an adventure with God helped them begin to embrace the season with greater excitement and hope to see what God does next for us.

God gets to direct the steps

(Pr.16:9)- I know, it seems obvious since it's scriptural but there are moments in life where it becomes very clear that God has another way he plans to get us from point A to point B than we may have anticipated. I had some goals and some plans that this little unexpected transition didn't quite fit in. Yet unexpectedly, I'm starting to see how it is fitting perfectly. I would have never picked this unlikely direction but that is why He is God and I am not. It reminds me of a sermon I heard by

Pastor Tim Dilena of Time Square church

and in it, he said, "Since God is higher, then God sees further." I have to trust his nature and believe that God has good plans for me, even during unexpected transitions.
My friend, if you are in a season of transition, I want to remind you that you are not alone. Many of God's people are being tutored through transition right now and I believe it is intended to draw us closer to Him. When transition and tutoring occupy the same season, we are in the perfect position to experience a move of God, spiritual maturing, and promises fulfilled. So get ready, it will all work out for your good.
Latest Podcast Episode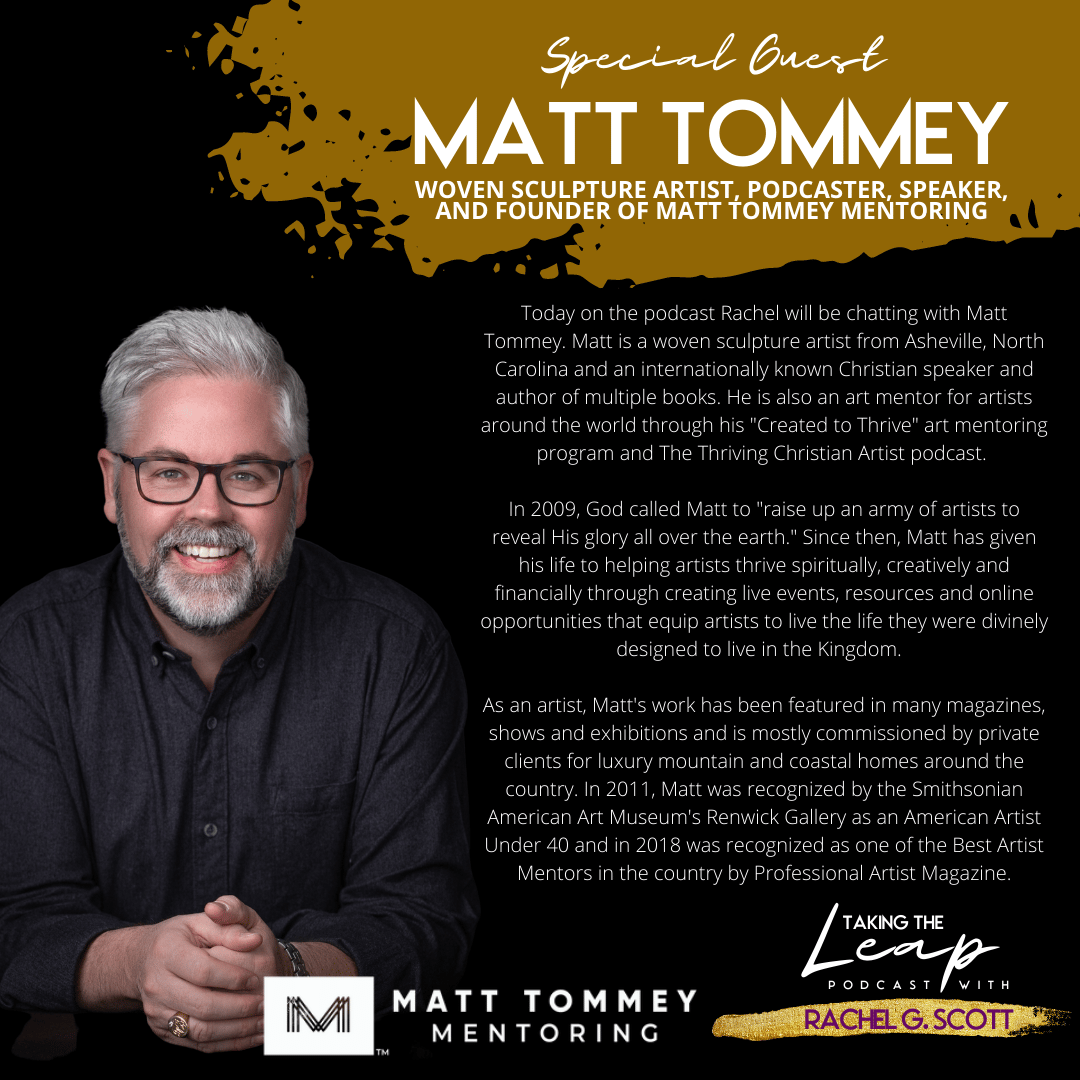 Tune into the latest Taking the Leap podcast episode with Matt Tommey, a woven sculpture artist from Asheville, North Carolina and an internationally known Christian speaker and author of multiple books. He is also an art mentor for artists around the world through his "Created to Thrive" art mentoring program and The Thriving Christian Artist podcast. In this podcast, we discuss:
How through healing past childhood abuse & adult additions he was able to hear God's calling for his life

How what you're going through now will give you the authority & expertise to help others coming along behind you

When finding your identity in Christ, this gives you the confidence to step out and be the best artist, entrepreneur, worker, or family member you were meant to be

How God did not design artists to starve, but rather to thrive for His glory.
Hope you enjoy!